Diploma Projects – Annual Awards 2011 by greekarchitects.gr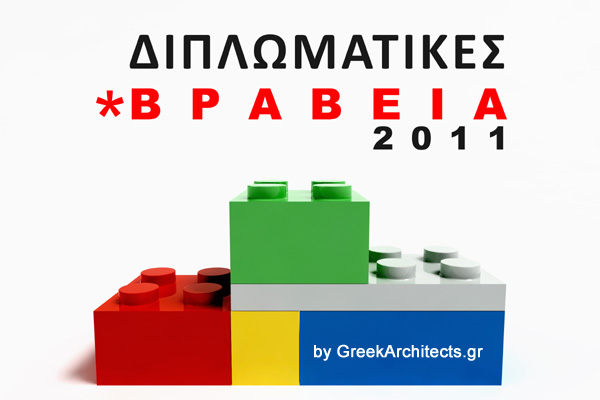 Continuing for the second year running GreekArchitects.gr's annual Diploma Projects awards, it is with great joy we present you the 2011 results.
For the 2011 Diploma Projects awards, ninety-eight in total projects, which have been previously published at GreekArchitects.gr, have been submitted and from the thirty-five shortlisted entries, qualified for the second phase, three entries have been awarded the first prize in three equal parts, three entries have received a commendation and another three have received a special mention.
The three awarded entries, along with the formal prizes from GreekArchitects.gr, will also receive a scholarship for studying at the undergraduate programs of the Graphic Design and Interior Architecture courses, courtesy of Vakalo College of Art and Design.
All distinguished entries will receive a collection of architectural books as well as a two year free of charge Gold Membership subscription, courtesy of GreekArchitects.gr
Diploma Projects annual awards 2011 (The first prize in three equal parts)
Ekaterini - Olimpia Daskalaki
Stamatios Psarras
Photis Zapantiotis
Three Commentations

Irene Yioti


Ioanna Hinoporou
Four Mentions
Chryso Eracleous
Loukia Iliopoulou, Chrysa Krassa, Stella Rousoyiannaki

Vasilis Papaconstantinou

We remind you that you could continue forwarding your projects for online publication, regardless of the date they were presented as well as projects carried out throughout 2012, which will compete the following year.
Source: www.greekarchitects.gr
13/09/2012